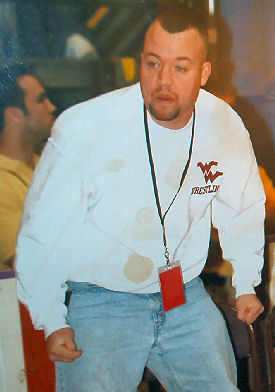 Chuck Smith pictured at matside for the Woodrow Wilson Flying Eagles.


Chuck's wife Britney accepts his award from Mike Clair, State Chapters Director, National Wrestling Hall of Fame, at the 2006 induction ceremony.

Chuck Smith -- "Distinguished American"

Chuck Smith was a wrestler at Independence High School. During his competitive years, Smith was a place winner in several invitational tournaments. As a senior, Chuck Smith was a regional champion and placed fourth at the West Virginia State Championships. His love for wrestling has never diminished.

After high school, Smith served his country for 4 years in the United States Marine Corps.

When his military duty was over, Chuck Smith joined the Beckley City Police Department. During that time, Smith coached in the youth wrestling leagues. Chuck was also the assistant coach at Park Middle School for two years, finding time to referee junior high and high school matches as well.

In the 2005-2006 season, Woodrow Wilson High School could not find a wrestling coach, and the program was in danger of being dropped from the school's athletic program. Chuck Smith would have none of that and graciously offered to take over the helm. He devoted a great deal of time with his wrestlers, keeping the program intact and competitive.

In August 2006, as an undercover police officer, Chuck Smith was fatally wounded by a drug dealer during a drug bust at the age of 29. Chuck's wife, Britney, and daughter, Taylor, along with his parents, Charles and Sonya, brother Roy and sister Robyn, will all share this honor with him.

The National Wrestling Hall of Fame proudly honors Chuck Smith with the "Distinguished American" award, class of 2006.