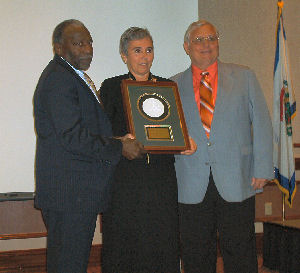 Diana Archer (center) receives her award from National Hall of Fame member Bobby Douglas (left), and Mike Clair, State Chapters Director, National Wrestling Hall of Fame (right).



Diana Archer -- "Lifetime Service to Wrestling"

Diana DeMarco Archer graduated from Bridgeport High School in 1967. While attending Marshall University, she met and married Bill Archer in 1969. She earned a B.A. degree in 1971 and a Master's degree in Counseling in 1979. Diana also holds Masters Certififation in scuba diving.

As a supportive wife, Diana helped her husband Bill to bring wrestling to life in Huntington, WV. From the very beginning, she has been the official scorer for the state's largest junior high and high school tournament, the WSAZ Wrestling Invitational. Along with Bill's efforts, she helped organize and score the West Virginia AAU Junior High Tournament at Marshall University for several years. She has served as co-director and official scorer for the West Virginia State Wrestling Tournament for 36 years. At all these tournaments, she has helped organize hospitality rooms for coaches and HHS wrestlers.

During Bill's early years of coaching job at Huntington High School, Diana helped him publish "THE WEST VIRGINIA WRESTLER" state newspaper for five years.

For 30, Diana has been blessed with a very rewarding job as Counselor at Huntington High School, briefly at Huntington East High School, and presently at Huntington (West) Middle School. This has given her countless opportunities to provide support to the many wrestlers, matmaids, parents, and coaches whom she has met through the great sport of Wrestling.

Diana and her loving husband, Bill have two sons, Robbie De (Anna) and Bull (Melanie). They have four wonderful and loving grandchildren, Molly, Samuel, Mattie, and Macy.

The National Wrestling Hall of Fame honors Diana Jo Archer with a "Lifetime of Service to Wrestling" award, class of 2007.