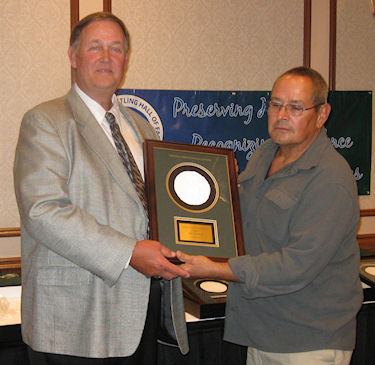 Jim Hamric (left) receives his award from WV Wrestling HOF member ('08) Garry Bender.




Jim Hamric -- "Lifetime Service to Wrestling"

Jim Hamric's career in wrestling started in 1970 as the coach at Walton High School, Roane County, enrollment 300 students. Wrestling was an infant sport at that time and had no mat, no uniforms, no scales and no place to practice. Resourceful efforts led to gym mats tied together, dyed long underwear, borrowed feed scales and the stage adjacent to the gym for practice. At that time in WV wrestling, in order to qualify for the state tournament, competition was against all schools - one class-one champ from each region. By the end of Coach Hamric's tenure at Walton, the Tigers had a new mat, new uniforms, a new set of doctor scales and an individual qualifier at the· state tournament.

In 1973, Jim moved to Spencer High School for the next 20 years of its existence to coach a variety of sports. At that time, wrestling at SHS was well covered with Tom Woods, so Coach Hamric began an officiating career that lasted until 1988 when his son, Jay became involved in organized sports. He moved up in the officiating circles to ·work numerous regional tournaments and the state tournament 8 times. As head coach in 3 sports and Athletic director of SHS, Jim organized and was director of many invitational, LKC and regional tournaments. Wood County hired Mr. Hamric in 1999 as Parkersburg High School's AD, partly because of his experience and wealth of knowledge of wrestling. He continued his "director's presence" as director of MSAC and regional tournaments until his retirement in 2005. He culminated a Director of Athletics career working at all 3 levels of high school in WV- A, AA, and AAA.

Jim is also a member of the Roane Co HS Sports Hall of Fame, the Mid-Ohio Valley Hall of Fame and was selected Coach of the Year in all sports by the WV Sportswriters Association in 1992, after the Yellow Jackets went 14-0 and won the AA State Football Championships. Jim and wife play golf nearly every day.

Jim and his wife, Margie have been married for 48 years and are retired and living in Mineral Wells. They are the proud parents of Amy, Lori, and Jay and have 7 wonderful grandchildren.

The National Wrestling Hall of Fame honors Jim Hamric with a "Lifetime Service to Wrestling" award, class of 2015.