The Cardinals rolled out to four wins in the first 5 bouts to take a commanding 15-3 lead heading into halftime. The Scots big men proved to be too much for the young Cardinals squad however; ticking off four straight wins to complete the comeback.

"There was no doubt the boys competed really hard tonight, and there was a lot of learning that went on tonight too," said WJU head coach Sean Doyle. "There were a lot of wins based off guts and heart. This was a winnable match for us as a team. The guys went hard, but we can identify spots where we could have won the match.

Opening the match at 125, WJU's Brad Kakos squared off against Alma's Tyler Foley. Kakos looked strong in the first period, but Foley scored a takedown with five seconds left in the period to take a lead that he wouldn't relinquish, taking the match 5-0.

The 133lb match was a fight to the finish with Alma's Danny Martinez taking a 3-1 lead after two periods on a takedown and an escape. WJU's Scott Lopez wouldn't go quietly however, battling back to score a takedown with a minute left in the third, leading to WJU's first ever home victory, 5-4.

Skyler Terrell scored another victory for the Cardinals at 141lbs following his first place finish the week prior at the Baldwin Wallace Open, with a win over Alma's Casimer Strzynski. Terrell scored a takedown in the second period to tie the match at two, then scored a point as time expired with more ride time to win 3-2, and put the Cardinals up 6-3.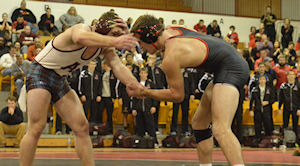 Sawyer Leppla had the match of the night for the Cardinals.