WHEELING, W.Va. – The Wheeling Jesuit wrestling program has signed six student-athletes to National Letters of Intent head coach Sean Doyle announced today. Preston Bowshier (Kenton Ridge High School, Ohio), Kody Kernan (Mussleman High School, W.Va.), Terrance Fanning (Preston County High School, W.Va.), Peyton Geary (Freemont Ross High School, Ohio), Justin Trent (Colonial Heights High School, Virginia) and Justin "Ki" Ryder (Fort Campbell High School) will join the Cardinals in the fall of 2014 as the second recruiting class in program history.

"This is the first full year we had to recruit and words couldn't really explain how excited we are about this group," said Coach Doyle. "We are striving to find young men that have a focus on becoming great in everything they do and making the right decisions to get there. These individuals come from wonderful families that have laid a foundation to enable success in their sons. We look forward to continuing that and provide the resources for them to achieve maximum success on and off the mat."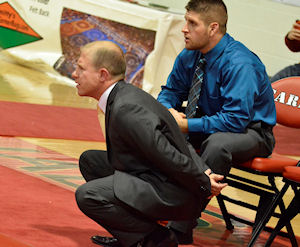 "WJU wrestling head coach Sean Doyle has signed six wrestlers to build on his programs first year success."