WHEELING, W.Va. - The last 12 months have been quite the journey for the Wheeling Jesuit Wrestling program. At this point a year ago, Head Coach Sean Doyle was making his first visits to high school campuses, seeking out his inaugural class of Cardinals.

Fast forward a year, and Coach Doyle will be leading his 11th ranked troops into battle at the Super Region 1 Championships at Pitt-Johnstown this weekend, to see where his first year program will match up against some of the nation's best.

"The past year, it's been a blast," said Coach Doyle. "(The team) is growing up, they're getting better at their wrestling, they're learning to manage their time, they're learning to manage their wrestling better, and they're becoming more mature. It's a long process, but we're getting there."

One of the standouts for WJU that will be pushing for a birth to nationals is freshman Sawyer Leppla (Cambridge, Ohio) who is wrestling at 174, a weight-class up from where he started the year at 165. Leppla comes into the regional meet as the only Cardinal currently ranked in the top six.

"We're pushing ourselves every day in here. Training hard, but training smart, hoping that we're prepared for regionals," said Leppla. "We haven't really seen that level of competition yet. We've had a taste of it, but not the full thing… so we're nervous, but excited."

Leppla and his teammates will be testing their mettle against a tough field of competitors where 9 out of the 10 weight classes feature at least one national ranked wrestler.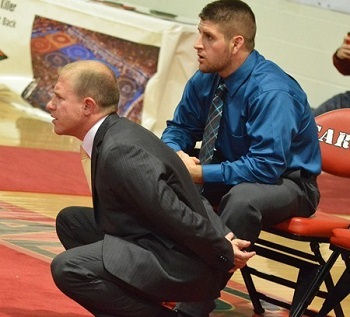 Jesuit Coach Sean Doyle