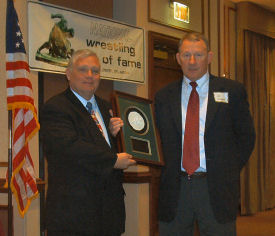 Coach Dugas (right) receives award from Mike Clair, State Chapters Director, National Wrestling Hall of Fame
Ed Dugas -- "Lifetime Service to Wrestling"
Coach Ed Dugas is a graduate of Moundsville High School and West Liberty State College, where he lettered in wrestling, football and track. At WLSC, he was a West Virginia Conference Wrestling Champion.

Coach Ed Dugas began his coaching career in 1968 as assistant coach to ultra-successful coach, Bill Hinegartner at John Marshall High School. A "good cop, bad cop" team (guess who the bad cop was), Coach Dugas and Coach Hinegardner produced four West Virginia AAA State Championship teams (1972, 73, 74, & 79). In 1982, Coach Dugas took over the reins as the head coach of the John Marshall "Monarchs."

During his tenure at the Monarch helm, Coach Dugas produced 11 individual state champs, two All-Americans, and finish in the top 5 at states seven times. In 1982, Coach Dugas's squad won the gigantic OVAC Tournament, followed by a runner-up finish in the 1983 state tournament. His teams won 217 dual meets.

A member of the National Wrestling Coaches Association for 29 years, Coach Dugas was named the 1982 OVAC Coach of the Year. He was later honored as the 2003 OVAC "Mr. Mat" award recipient.

Ed Dugas resides in Moundsville, West Virginia with his loving wife Mary Jean. They have three grown children - Edward A. Dugas, Rebecca Bisutti, and Patricia Dugas. The National Wrestling Hall of Fame honors Ed Dugas with a "Lifetime Service to Wrestling" award, class of 2005.