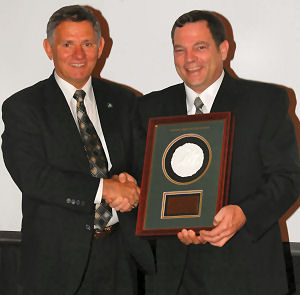 John Feltz (right) receives the award on behalf of his father from National Wrestling Hall of Fame representative Dan Zottarelli, President of the Maryland State Chapter.
James C. Feltz -- "Lifetime Service to Wrestling"

James C. Feltz, a native of Fairmont, attended Fairmont Senior High School and Fairmont State College where he is a "Letterman of Distinction". He later received his master's degree in school administration from West Virginia University.

Jim began his teaching and coaching career in Monongah High School, where he coached numerous state title teams in football and baseball. He returned to his high school alma mater in 1964 to coach football and wrestling — the new love of his life.

As he began his wrestling career with very little knowledge, he learned it by reading books, attending clinics, and listening to his many friends in coaching. It didn't take Jim's mat teams long to make a significant mark in North Central West Virginia, the Big Ten Conference, and the state of West Virginia. He coached several state champions, including Jack Kerr, Don Courtney and Bill Proctor.

In 1970, Jim moved into school administration. It was then that he turned his attention to becoming a wrestling official. Jim spent the next 24 years officiating the sport he loved. He served as the state rules interpreter from 1979 through 1988. He especially enjoyed traveling around the state, giving clinics before the start of each mat season. Jim was appointed to serve on the NFHS's National Wrestling Rules committee for several years in the mid 80's. He deemed this position to be a tremendous honor.

His son Jon recalls, "My father always had a wrestling story to tell from his coaching and officiating years for anyone who would take the time to listen. He truly had a passion for what he called 'the purest form of sport there is,' the sport he loved, the sport he served so well — the sport of wrestling.

Jim married the founer Betty Wilson. They raised three children: Jay, Jon, and his daughter Jamie. Jim always had a strong faith in God. Suffering complications following open-heart surgery in 1988, he passed away on January 12, 1995. He is deeply missed by family, friends, and colleagues. His legacy lives on...

The National Wrestling Hall of Fame honors James C. Feltz with a "Lifetime of Service to Wrestling" award, class of 2008.