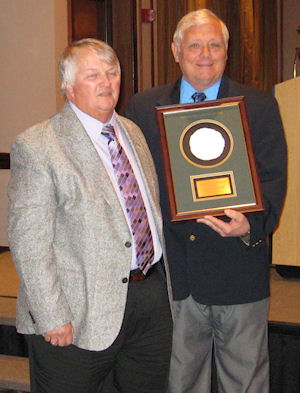 Larry Snuffer (left) receives his award from Mike Clair, State Chapters Executive Director, National Wrestling Hall of Fame.
Larry Snuffer -- "Lifetime. Service to Wrestling"

Larry Snuffer graduated with honors from Trap Hill High School in 1964. He graduated from West Virginia Institute of Technology in 1968 with a Bachelor of Science degree. Later he earned a Masters egree in Speech and Communication from West Virginia University and a graduate degree in Athletic Training from Marshall University.

After teaching for two years in Webster County, he taught for thirty-two years in Raleigh County. While at Shady Spring High School for twenty-six years, he met legendary Coach Dix Manning and was hired as his assistant in 1976 for one year. The part time assistant coach position lasted for thirty years, assistant to Coach Manning from 1976 to 1997. He was part of three State Championship teams, one runner-up team and ten consecutive regional titles. In 1989, when no one would accept the position, he volunteered to coach the Shady Spring Junior High program, while still assuming duties as high school assistant.

Larry served as clinician at several wrestling camps and directed twelve Regional Tournaments. In 1997, he succeeded Coach Manning as head coach along with assistant Danny Carter. Larry coached six individual State Champions including three-time State Champion and Outstanding Wrestler, Derek Scarbro, and two-time State Champion, Josh Neal. During his tenure, Shady had twenty-three State place finishers, continuing the school's consecutive streak of placing an individual in the State Tournament since 1976. His teams compiled an overall duals record of 73-36-1 and at one time won forty-one consecutive duals.

In 1997 he was inducted into the Raleigh County Wrestling Hall of Fame. He won the Dix Manning Award as AA Coach of the Year in 2005, and was also named the Wrestling Coach of the Year by the WVSSAC for 2004-05. Larry has also served as an Athletic Trainer in football at Shady Spring High and Independence High Schools for thirty years. He has also coached track for nine years. Now he instructs homebound students.

Larry and his wife Connie are parents of daughter, Lynn. They have one granddaughter, Molly.

The National Wrestling Hall of Fame honors Larry Snuffer with a "Lifetime of Service to Wrestling" award, class of 2010.