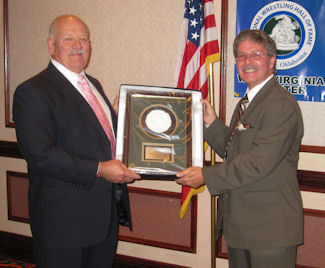 Bane McCracken (left) receives his award from George Keeney, Chairman, West Virginia State Chapter Board of Directors

Bane McCracken -- "Lifetime Service to Wrestling"

When Bill Bias volunteered to start the first wrestling team at Milton High School in 1960, Bane was the first to sign on. The next year, he became the school's first state champion. He continued his career at Marshall University, volunteered to coach at Beverly Hills Jr. High, and then took over as the head coach at Milton High School in 1974. When Milton High School closed In 1995, Bane left coaching to become the physical education department chair at Cabell Midland High School, where he developed an award-winning program.

For his efforts, Bane was named the 1995 West Virginia Physical Education Teacher of the Year, 1996 Mid-West District Teacher of the Year, and the 1997 National Physical Education Teacher of the Year. Bane left Cabell County Schools in 2000 to become the coordinator of physical education, health education, driver's education, athletic trainers, and liaison to the WVSSAC for the West Virginia Department of Education until he retired In 2006. He returned to teaching as Professor of Physical Education at Marshall University In 2010 & 2011.

He has written a book, It's Not Just Gym Anymore, and published professional articles in The Journal of Health, Physical Education, and Recreation; The National School boards of Education Journal; and Update, a publication of the American alliance of Health, Physical Education, recreation and Dance. He has been a featured speaker at conferences In forty-five states as well as Mexico, Germany, and Japan. He currently is a consultant for the National Center for Disease Control and a member of the Board of Directors for West Virginia on The Move.

Bane and his lovely wife Joyce, also a retired teacher,live on a twenty-acre hill in Ona. They enjoy cooking, gardening, cycling, kayaklng, camping, fishing, and ballroom dancing. The couple have two children; Scott and Tana, and four grandchildren; Tasha, B.J., Zac, and Jessica.

The National Wrestling Hall of Fame honors Bane McCracken with a "Lifetime of Service to Wrestling" award, class of 2012.