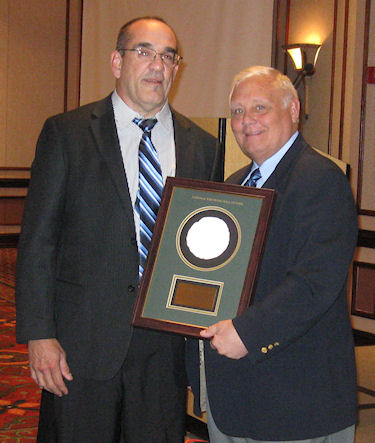 John Holliday (left) receives his award from Mike Clair, State Chapter Executive Director, National Wrestling Hall of Fame.




John Holliday -- "Lifetime Service to Wrestling"

John Holliday began wrestling in Virginia in the Washington, D.C., area where he grew up. Moving to southern West Virginia his sophomore year in high school he graduated from Greenbrier East High School in 1976. He then attended Concord College and West Liberty State College, graduating with a B.A. degree in Education in 1981. While at West Liberty he competed and lettered in the sports of cross country, wrestling, and track and field, gaining valuable knowledge to use as a coach in all of those sports.

Starting at Pine Grove Valley High School in Wetzel County, he began a thirty-three year career in coaching and officiating wrestling, as well as other sports. In his years as coach at Valley, Magnolia, and Paden City High Schools he brought his many experiences to the youth of Wetzel County. These experiences included: the first and only state placers for Valley High school in wrestling, including state finalist Pete Shaw; the last state champion in wrestling for Magnolia High School in Greg Funari . In addition, he took part in three team Region 1 A-AA and three State Championships in girls' track and field at Magnolia,. During this time period he also developed a Region 1 A-AA Championship in boys track at Paden City High School. He then spent seventeen years officiating wrestling at the high school and collegiate levels.

Returning to coaching wrestling in 2005, he started the first middle school program in Wetzel County history at New Martinsville Middle School while laying the ground work for the Eagle Wrestling Club. For eight years his squads developed wrestlers to compete in the Mason Dixon and Ohio Valley Conferences. The 2013 squad garnered a fourth place finish at the giant Ohio Valley Championships. During this time he also took over the reins of the boys and girls cross country programs at Magnolia, qualifying the boys' team to the first state championships in many years by virtue of the Region 1 A-AA runner-up and a state top six finish.

John is presently the K-8 Counselor at New Martinsville School and has earned three Master's degrees from West Virginia University.

John and his lovely wife Sonya have two daughters together, Shaela Grace and Alina Summer. Their family includes John's daughter Amy Ann Holliday, a teacher at Lincoln High School in Harrison County, and Sonya's son Josh Bartrug. John's hobbies include farming, running, watching wrestling competitions whenever possible, and spending time with his daughters.

The National Wrestling Hall of Fame honors John "Doc" Holliday with the "Lifetime of Service to Wrestling" award, class of 2013.