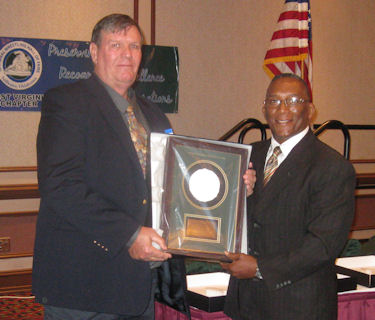 Harold Wayne Bennett (left) receives his award from former WVU Assistant Coach and USA Olympic Bronze Medalist Nate Carr.




Harold Wayne Bennett -- "Lifetime Service to Wrestling"

Harold Wayne Bennett graduated from Central High School in St. Louis, Missouri in 1965. While in high school, he lettered in football, wrestling, basketball, baseball and track. After graduation, Wayne walked on and earned a football scholarship at Marshall University. During his senior year, he was selected as one of the defensive captains for the team. He earned his B.A. 1970 and a Masters Degree in 1973 from Marshall University.

Wayne coached several different high school and junior high sports including football and wrestling from 1969 - 1994 in the Man and Logan areas of Logan County. Two of his wrestlers became AAA Runners-up, one third and two fourth placers. At the time of his retirement in 2003, he was Principal at Ralph R. Willis Vocational Technical Center in Logan, WV. In the early stages of his retirement, be was asked by a former wrestler to coach his son (Ben McCoy). He returned to coach wrestling at Man High School in 2005 and 2006.

Wayne has four wonderful children; Stephen, former baseball player at Marshall, Chad, former Marshall Band member and also award winning Barber Shop Quartet "Heritage Station," Bailey, a high school junior playing softball, and Trey, a high school freshman playing football and running track. He now resides in the Teays Valley area near Hurricane, West Virginia.

The National Wrestling Hall of Fame honors H. Wayne Bennett with a "Lifetime Service to Wrestling" award, class of 2014.