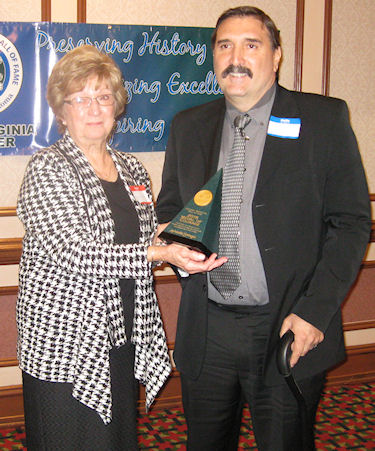 Aristotle Svingos (right) receives his award from Nancy Skirpan, wife of the late Alex Skirpan (WV HOF '09)


Aristotle Svingos -- "Medal of Courage"

Aristotle Svingos wrestled at Huntington High School 1970-72 and was a member of the track and cross country teams. As co-captain his senior year, he placed 3rd in the WV State Wrestling Tournament. In 1972, he finished 1st in the AAU WV State Open Freestyle Tournament with a 6-0 record. At Eastern Regionals at Eastern Kentucky University he placed 2nd and qualified for the Olympic Training Camp in Minnesota.

Upon graduation, Aristotle attended Marshall University and majored in Education and Health. As a 1973 member of the M.U. Judo team sport club, he used freestyle and wrestling techniques to defeat black belts while only a white belt. He earned a brown belt in the art of Tae Kwon Do and won Bronze Medals in Forms and Free Fighting at the 23rd Annual U.S. Open Martial Arts Championship in 1996.

He is co-owner of Victor's Cleaners and Launderers, a third generation family business since 1911 and Huntington's oldest continuous family run business. Having held numerous positions with the WV Dry Cleaning and Laundry Association, he is the longest serving board member (37 years), has been President twice, and Executive Director 10 years. For many years, he coached his children in T-ball, major league softball, YMCA Buddy Basketball, and middle school wrestling. Also he is active in the Sigma Phi Epsilon Fraternity Alumni and Loyal Order of the Moose. Aristotle is a life-long active and devout member of St. George Greek Orthodox Church, an ordained Reader, and Parish Council official for numerous years. He served as District Governor of The Order of The Sons of Pericles. Also he is a member of the Order of AHEPA. He has worked the Huntington HUPCO, WSAZ, and WV State High School Wrestling tournaments or numerous years as an official scorer and is a supporter of Huntington High School Athletics.

In 2013, Aristotle had a five bypass open heart surgery which led to the discovery of a rare blood cancer, Multiple Myeloma. It was compounded with further complications, an auto-immune disease, and a disease of the stem cells which led to his inability to not walk for a year. While surpassing all odds, he gives all credit to God, his faith, his doctors at University of Cincinnati BMT, and his loving family and friends. He feels personal attributes of strength, intestinal fortitude, and perseverance to fight this battle were developed largely in his career while wrestling.

Aristotle and his loving wife of 30 years, Janet, reside in Huntington. They are the proud parents of three children, Lambros, Alexandra, Marie Simone, and a beautiful granddaughter Avery. Aristotle is also very proud of his son Anthony.

The National Wrestling Hall of Fame honors Aristotle Svingos with the "Medal of Courage" award, class of 2016.