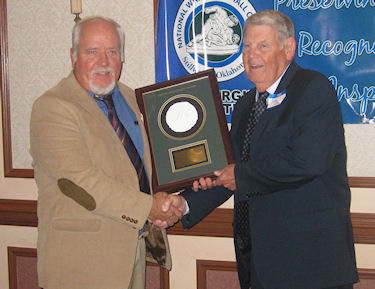 Buddy James (right ) receives the award from Wayne Bennett, (WV HOF '08)


Buddy James -- "Outstanding West Virginian"

Buddy James was a 1956 graduate of Parkersburg High School. While under Coach Bob Dutton at 155lbs., he placed 4th at heavyweight as a junior. During his senior year in 1956, Buddy was undefeated, pinned all his opponents except in his championship match at 168 lbs., which he won 5-0. Also playing football, he was first All State Tackle and on the All Northern Team.

Upon graduation, he went to Montana State University his freshman year on a Football scholarship and lettered in wrestling. In 1957, he transferred to Marshall University where he again played football and wrestled.

With a BS degree from Marshall, he was hired to teach Civics at Jackson Junior High and coached Football, Wrestling, Basketball and Track. Since he started wrestling in Wood County for junior junior highs, each year they present the Buddy James Coach of the Year Award. For many years, he has been a wrestling official.

In 1963 , he went to PHS as Assistant Coach in Football, Wrestling, and Track. PHS won State Championships in Wrestling and Track. He became the Head Football Coach in 1968. He was the winningest AAA Football Coach in WV, when he retired in 1990. Each year at PHS, the outstanding lineman receives "The Buddy James Lineman of the Year" Award.

Among his many awards, Buddy was inducted into the Montana State University HOF, Mid-Ohio Valley HOF, Parkersburg HS All Sports HOF and PHS Football HOF. In 1977, he coached the North Bears in the North-South Classic.

Buddy is the recipient of the National High School Coach Golf Award. He has been featured in numerous books for Football coaching and programs. In 1999, he received "Lifetime Leadership Role Model Award" for coaching in all sports. He received Retired Coach of the Year Award in 1995, presented by WV Coaches Association.

Buddy and his wife Nancy live in Vienna. They are the proud parents of two daughters Lorrie and Pam.

The National Wrestling Hall of Fame honors Buddy James with the "Outstanding West Virginian" award, class of 2017.