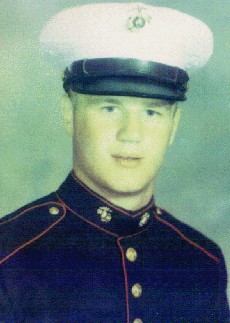 This dedication is to one of the most humble men I have ever known -- Mark Gerrity.

Mark wrestled with me in high school. His goal in life was to be a teacher and wrestling coach. That was not to be. Upon graduating from Shamokin (PA) High in 1967, Mark Gerrity was drafted in the Marines and spent two (yes, I said two!) tours of duty in Vietnam. It cost him his dream!

Upon returning state-side, Mark had many physical problems due to combat injuries and the infamous Agent Orange. But he still kept a positive, loving attitude on life and later graduated from Susquehanna University (Selinsgrove, PA) -- magna cum laude! Still, for over 30 years he was plagued with so many war-related physical complications.

Over the last five years, Mark Gerrity created a Pennsylvania wrestling website that has been nationally-recognized for its innovative and promotional approaches to the mat sport.
On February 1st, Mark J. Gerrity finally succumbed to his war ailments. He left a legacy of courage second to none. His military honors and decorations included a National Defense Service Medal, Combat Action Ribbon, Meritious Unit Citation, Vietnamese Service Medal with Five Stars, Purple Heart Medal, Vietnamese Cross of Gallantry with a Silver Star, Vietnamese Campaign Medal, Certificate of Commendation, Rifle Sharpshooter Badge, and finally the Navy Commendation Medal with Combat V -- the third highest honor given by the Navy!
Thank you, Mark, for being my very good friend and a true American hero. I will never forget you for your love of God, America, family, and the sport of wrestling. You epitomize the truest essence of human compassion for his fellow man.
(Note: On February 26, 2000, Mark J. Gerrity was inducted into District IV Pennsylvania Wrestling Hall of Fame for his contributions to the mat sport on the internet.)